Asan Barage Infrastructure Development at Garhwal Mandal Vikas Nigam ( GMVN )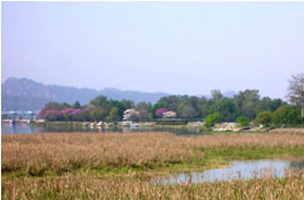 Asan Barage, Near Dehradun, Uttarakhand
Commissioned by – Project in association with Shah Technical Consultants, Mumbai
Asan Barage is located on the Yamuna River near its emergence to the plains about 45Km from Dehradun. The Assan Barrage precinct is part of the Assan Catchment area which is proposed to be declared as an 'ecosensitive area'. The precinct comprises a fresh water reservoir (the Assan Barrage), a portion of protected forest reserve and the Dhalipur lake. The rich natural heritage of the precinct attracts a lot of migratory birds during winter season which making it a significant spot of tourist attraction.
The purpose of the project is to develop a well protected Wetland Conservation Reserve in the Himalayan foothills , as a centre for Recreation & Conservation Education. The precinct has a fragile ecosystem and hence a set of design guidelines and principles has been formulated which is compatible to the landscape.
The Department of Tourism, Uttarakhand is operating water sport activities like water skiing, boating, rowing, kayaking, canoeing; in a portion of Dhalipur lake. The design proposal for the centre includes redesigning/improving the infrastructure within the GNVM Tourist centre. Spatial planning is influenced by the natural existing features and spaces around the tourist centre like the water body, vegetation, already existing trails outside the site etc. which carves out the setting for the site. Design principles include low impact architecture, use of indigenous building materials, passive landscape that merges with the surroundings, restricting vehicular traffic and developing pedestrian walkways.