Tourism Development at Pong Dam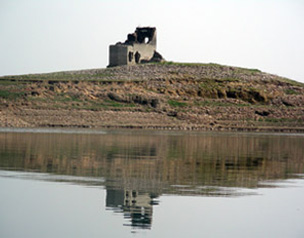 Pong Dam, Himachal Pradesh
Commissioned by - Infrastructure Development Investment Programme for Tourism by ADB (Asian Development Bank) Project in association with Shah Technical Consultants, Mumbai
The Pong dam is located in the northern parts of the Himachal Pradesh. The reservoir is known as Maharana Pratap Sagar was created in 1975, by building the highest earthfill damin India on the Beas River in the wetland zone of the Siwalik Hills of the Kangra district. The reservoir covers an area of 24,529 hectares, and the wetlands portion is 15,662 hectares.
Pong Dam Lake was declared a Ramsar Wetland site on account of its rich waterfowl diversity for conservation and sustainable use of the wetland. The large reservoir and its strategic location in the extreme north-west of the northern plains have attracted migratory birds from the plains of India and Central Asian countries and Siberia. More than 220 bird species of 54 families have been recorded. The interception of the migratory birds on their trans-Himalayan fly path, during each migration season, has enriched the biodiversity values of the reservoir. The reservoir peripheral land area has mixed perennial and deciduous pine forests on hills. The reservoir was declared as a bird sanctuary in 1983. Original Karu and Ranser hills got submerged partially in to the reservoir and became islands. Isolated from the main land, these islands are now a good secure habitat for wildlife.
The key concept of the proposal is improving tourist facilities without disturbing the natural assets. Nature interpretation and a camping site are proposed on the main land, from where tourist can take a boat to reach the islands. The design includes jetty, soft pathways, seating places, appropriate plantation, watch towers and toilets facilities.