Mapping of lakes in Mumbai City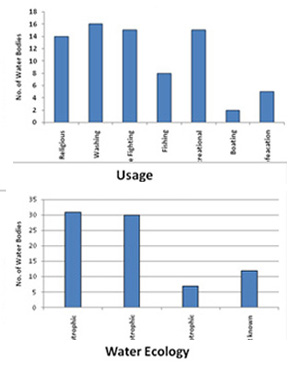 Mumbai city, Maharashtra
Funded by – Mumbai Metropolitan Region (MMR) Environmental Improvement Society (Project in Collaboration with Adarkar Associates, Mahim, Mumbai)
Mumbai boasts of some very unique and varied environmental features, ranging from coastal belts, creeks and mangroves, to many hills, forests, streams, lakes and ponds, all of them under intense stress today. Water bodies are of special importance in the urban context. Not only do they add to the aesthetics of the landscape, but they also support a rich and varied type of ecosystem, providing huge scope for nature awareness and education and adding significant premium to the land.
Originally wells and tanks were the only source of water in Mumbai. However with the development of piped water supply the importance of these water bodies diminished resulting in neglect and deterioration. Far from being protected or restored to their original capacity and attractiveness, many old ponds and tanks are now embarrassing and avoidable eyesores – filled with debris and silt, choked with weeds and covered with unsightly and smelly blooms of blue green algae.
The objective of listing and mapping of all the lakes in Mumbai city was to create an exhaustive database which can aid future planning decisions, environment improvement programmes and help formulate a strategy for conserving the existing and planning for new environmental features. The data was analyzed at macro as well as micro levels to identify sites which require immediate attention and formulate an action plan for them.
The methodology adopted was to first understand and map all the environmental components (physiographic, geomorphic and hydrological) critical for the sustenance of the water body, in order to be able to project the need for its conservation. These characteristics are seen in the context of the current land use in terms of the impacts of development. On the basis of these, a brief outline of the various interventions required for the further revival and rejuvenation of the water body has been prepared.