Rejuvenation of Lakes and Rivers of Nagpur City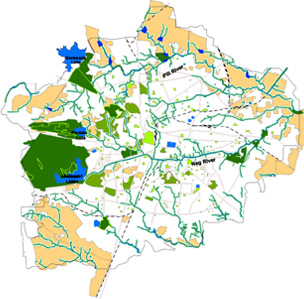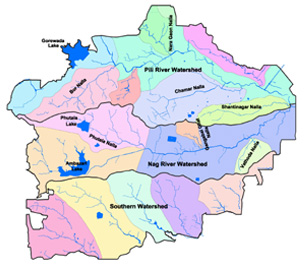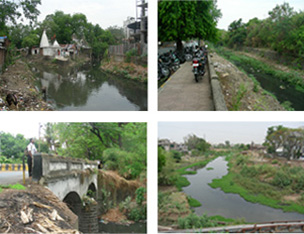 Nagpur, Maharashtra
Commissioned by – Nagpur Municipal Corporation
Along with being the Winter Capital of the state of Maharashtra Nagpur is also well known for its significant place in the political and as a geographical center of the entire country of India. With the city being the next most favored IT destination and the proposals for an upcoming International Cargo Hub, the city of Nagpur is slated for large scale developments.
Nagpur City has three parallel rivers; Nag, Pili and Pora flowing through the heart of the city. Out of these two are dammed on upstream side to cater the need of city forming three major reservoirs.The river banks, also serve as Biodiversity Corridors for the fauna and avifauna of the region. There are almost a dozen small man made historical lakes, which use to be a source of water for the city.
During earlier times of the establishment and development of the city of Nagpur, water bodies were designed as significant elements of the city; serving as water storage tanks as well as for recreation. Some of these also had religious significance and are even today associated with temples alongside their banks. Today also they play a major role of ground water recharge to ensure the un-interrupted water supply through bore wells. In addition they also help in equating the temperatures especially during the hot summer months.
As the natural sources of water are dammed, rivers passing through core of the city are mainly reduced to sewage carrying corridors. Many of the lakes are filled due to siltation and dumping. Their natural feeding channels are either diverted or vanished in the urbanisation. The rivers and lakes of Nagpur city are facing the effects of urbanization and are strained.
The Nagpur Municipal Corporation has taken the initiative to map, and document all the natural resources including the lakes and rivers of the city. Immense efforts are being put towards the institutionalization for the conservation of environment of the region. It is with this objective that the Nagpur Municipal Corporation has commissioned the project for the rejuvenation of Rivers and Lakes of the city.
The research involved use of Satellite images, Geographical Information system (GIS) and available ecological data to develop an understanding of not only the ecological, natural, environmental and social aspects but also the urbanization along the water bodies. Projects areproposed for the conservation of lakes and rivers of the city under the NLCP and NRCP.
Separate Master Plans were prepared; for the Rivers Nag, Pili & Pora and another for twelve identified Lakes of the city. The Master plans include measures for improving the water quality and quantity, Eco-technologies, ecological restoration, biodiversity conservation, recreational activities, landscape and urbanscape design, identification of actors and agencies, public participation and feasibility analysis.