Environmental Planning and Management for Pen town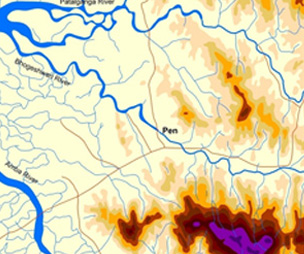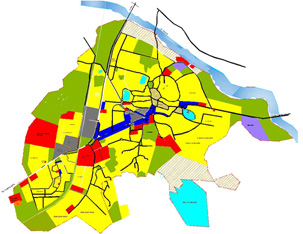 Pen Town, Raigad District, Maharashtra
Commissioned by –Pen Municipal Council
Pen taluka is centrally located in Raigad district and is about 80 kms. away from Mumbai. It is well known as a religious center with over 40 temples and Ganesh idol making industry from centuries. Pen town has around 4 water bodies, all within half a kilometre from each other. These were initially interlinked, but with the growth of the town and its infrastructure, they have now been disconnected. All these waterbodies slope towards the north into the Bhogawati river, which ultimately joins the sea in the west. The catchment of all these water bodies are on the southern side, with the elevation ranging from above 300 metres to sea level within a 2 kms stretch.
Earlier all the water bodies had significant positions within the town's fabric with a close relationship to the people and their settlements. They were also centres of recreational importance, but today remain as mere neglected features of the town. Due to urbanisation and encroachments, inlets and outlets of the lakes are damaged and the lake has lost its area and storage capacity resulting in deterioration of the water quality and loss of biodiversity.
The proposal focusses on Effective lake management based on an understanding of the relationship between a lake and its catchment. Improving the quality of water entering the lakeswill reduce the need for ongoing in lake maintenance. Watershed monitoring will identify the most important pollution sources and suggest the necessary landuse management and controls. Thus the study aims towards revival of these lakes for lest they become just a dumping ground for the city of Pen.