Urban Development Plan for Mahad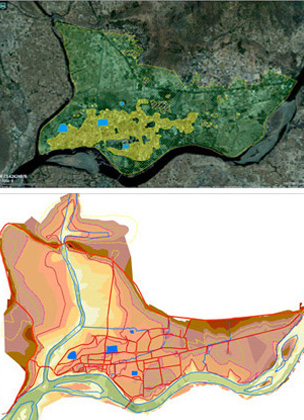 The multiplicity of an Indian town - especially a historic town such as Mahad, with layers of history, spatial use, an organic pattern of growth, scales to the built environment, diversity of community, lifestyles, rituals, patterns, and a combination of various state and non state actors in the making of urban space, makes the necessity of a unified approach to any planning or urban design project paramount. The absence of a holistic approach would lead to further fragmentation and patchwork solutions, thus negating any energy and resource invested in all such endeavours. While problems and conditions need to be identified in their overlapping, mostly conflicting multiplicity; their addresses needs to be within the framework of a wider, encompassing vision.
The range of urban-scale design issues to be addressed within the town of Mahad as part of this project are therefore included under the broad framework of a defined Precinct. A Precinct is defined based on contiguity of space and the identification of an edge, boundary or limiting elements that define the extent of that space. Each Precinct is identified for its unique and essential characteristics, Precincts are studied in relation with each other, in relation with the larger city, and then within their own envelopes to frame a context for action within that space.
Primary Level Precincts The Chavdar Tale Precinct is the foremost landmark of the town and holds historical importance from a national as well as international perspective. The Kranti Stambh and Shivaji Chowk are important commemorative points. While maintaining access routes for heavy vehicular traffic, the route connecting the three places will be developed as a cultural heritage route.
Secondary Level Precincts The Secondary level precincts include two identified natural elements within the town, namely Hapus Talao and Savitri Riverfront; that need remediation and rehabilitation, while also increasing their utility to the town. The third is a necessary infrastructural insert in the form of a new market area within the traditional market core.
Mahad Town, Raigad District, Maharashtra
Commissioned by – Mahad Municipal Council
The transformation of Mahad town, from agriculture and agri-based trade to industrial and services growth has led to various pressures on the social and urban infrastructure of the town.
The development of the town into a pilgrimage and tourist hub due to the presence and significance of the Chavdar Tale is also not acknowledged nor accounted for in current zoning and infrastructure provisioning.
Thirdly, there is a need to revamp the ecology of the water bodies of the town especially that of Chavdar Talé which is used for drinking by visitors and pilgrims and is in a non-potable condition at present.
Lastly, the town lacks public social and cultural facilities. Adaptation of existing infrastructure to serve newer functions more suited to the needs and requirements of the town, and developing upon the potential of the town's available natural resources to also serve social and cultural functions is a need.