Ulhas River Conservation and River Front Development, Karjat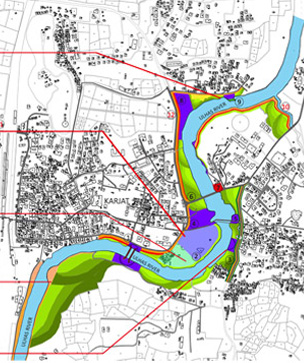 At present, Karjat does not have an underground sewerage system and about 15% of the households have no drainage facility at all. Wastewater is directly dumped into the river basin. Lack of adequate infrastructure, general neglect of the systems and public attitude towards the natural environment have affected the river ecology.
The project proposes a comprehensive approach to the river rejuvenation and restoration, incorporating design solutions to ameliorate existing conditions. The Renewal Plan accommodates technical infrastructure to treat contaminated water and harness the treated water for the benefit of the town, as well as public infrastructure and urban design elements to provide residents of the town with a well-designed, easily accessible riverfront.
The study of the existing issues and usage pattern facilitate the identification of existing public facilities and important public nodes along the banks of the river. Inclusion of provisions for existing usages like dhobi ghats, public toilets, ghats to approach the river, crematoria, etc. with the required infrastructure would ensure that the needs of the public are met while still warranting pollution control. Designing pavements and cycling tracks along the river bed would create an accessible pedestrian network and help in easing out the already congested roads. Also the river front development would provide the residents of the town with a new and rejuvenated social and cultural heart that is open and free to all.
Karjat Town, Maharashtra
Commissioned by – Karjat Municipal Council
Ulhas River originates in the Sahyadri mountains near Lonavala at a height of 800 meters above Mean Sea Level. It enters in to the deep valley near Rajmachi Hills and drops its height by almost 700 meters by the time it riches Karjat town, within just 10 kms of distance. Being extremely steep, hilly and inaccessible; catchment area of river is in fairly good condition with deciduous and semi-deciduous forests.
The presence of scenic hills and valleys and historical attractions like forts and Buddhist caves makes Karjat ideal for tourism. In addition being well connected to the surrounding towns and cities has led to the growth of the town. The population of Karjat has been growing at a very rapid pace since the year 1981. Karjat city has had a phenomenal decadal growth since the last two decades. Increase in construction activities has put immense pressure on the infrastructure of the town.