Conservation and eco landscape, lake – Khandala Lake - lonavala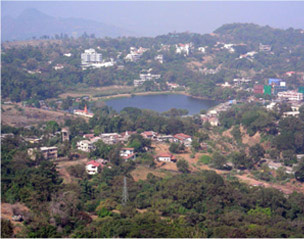 Khandala lake is situated on the south side of the Mumbai – Pune Express way and the old Mumbai – Pune highway. The lake is surrounded by three temples, a defunct railway line, formal and informal settlements and a dam wall to the east. Some of the issues affecting the lake are encroachments, vehicle parking into the lake area, entry of sewage and waste water from surrounding development, erosion and siltation from steep hill edges, lack of vegetation, lack of buffer between the lake and highways, dumping of garbage and nirmalya from temples and heavy tourist influx on the lake front.
The objective of the proposal is to improve the water quality, revive the natural processes of the lake and provide for necessary public amenities. The following concepts are proposed to achieve this objective
Defining the water edge
Introducing the lake fronts as softer transition spaces
Restoration of the catchment areas
Creating buffer areas in between the water bodies and the roads and railways
Revival of edges through Biotechnologies
Redesigning storm water outfalls
Building collection/ retention ponds where there are surface run offs and storm water entering the lake
Implementation strategies for development and activities
Interactive spaces and sites for Public discourses
Developing guidelines for the future sustainability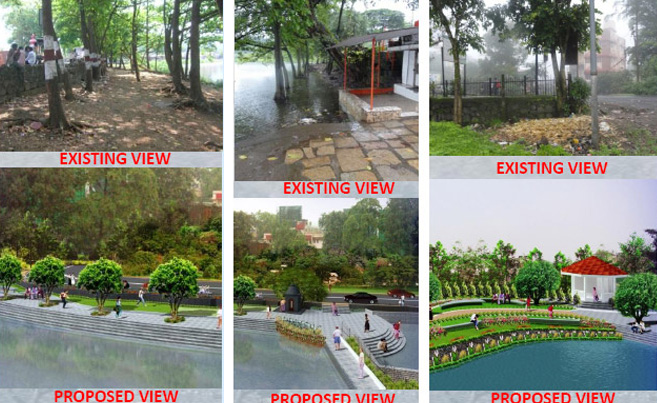 Khandala town, Pune District, Maharashtra
Commissioned by – lake proposed under NLCP, environment department, Mantralaya
Lonavala and Khandala are twin hill stations, located 622 m. above sea level, in the Sahyadri ranges. These hill stations are listed amongst the important global biodiversity hot spots and are interesting regions for observing avifauna and flora of Maharashtra including several endemic species. Located midway between Mumbai and Pune, the two big cities of Maharashtra State they are well known as an easy getaway place for the busy urban population of the two cities. Though the area is rich in natural features, they have not escaped the pressures of urbanisation in the surrounding metros and have borne the brunt of the infrastructural needs.