Conservation and eco landscape of Chavdar Lake, Mahad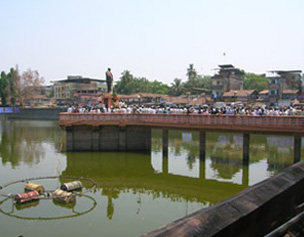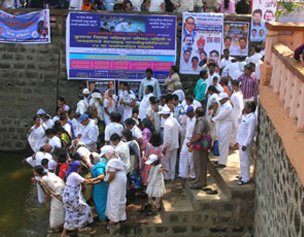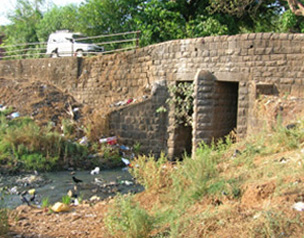 Mahad town, Raigad District, Maharashtra
Commissioned by – Mahad Muncipal Council
proposed under NLCP.
Mahad town is located on the fringe area of urbanization in the Raigad Regional Plan. The town is situated at the confluence of the two rivers, Savitri and the Gandhari River and faces heavy flooding every year.
Mahad town is well known for the satyagraha movement carried out by late Dr. Babasaheb Ambedkar for the untouchables, wherein drinking water was made available to the backward classes at the Chavdar talao. Even today the town is visited by pilgrims and tourist, especially on the three days when followers of Dr. Babasaheb Ambedkar congregate at the lake in large numbers. On these days the town faces many problems due to traffic and lack of adequate parking and basic amenities.
The lake area has been reduced from 1.55 hectares to 1.33 hectares due to the development of a Smarak and garden within the lake area. Also no water enters from the lake catchment area due to the construction of a masonry wall and the only sources are direct rainfall and ground water. The lake has fourteen wells in its basin and a few of them are saline in nature indicating decrease in ground water levels. Factors like artificial impounding, loss of tree cover, lack of flushing through overflow, solid waste disposal, contamination through ground water have affected the lake water quality. Very few bird and fish life were observed in and around the lake.
Some of the measures proposed for the revival of the lake are:
Redesigning and provision of overflow for the lake
Redirecting rain water from roof tops and storm water drains into the lake as a joint action between local people and Municipal Corporation
Formation of Natural lake edge and increasing green cover around the lake
Provision of facilities like parking, toilet blocks, pathways, seating
Redesign of the Main Ghat area