Conservation and Rejuvenation of Rivers of Nagpur city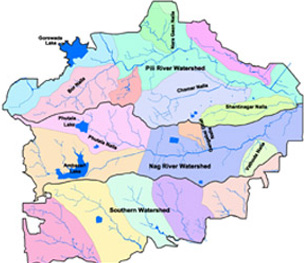 The main objective of the proposal is to improve the quality of water in the rivers and their tributaries. The proposals look at not only the short term goal of providing clean and pure water flowing through the rivers, but also the long term goal of ensuring their sustainability.
This will be achieved through the following measures:
Ecological measures for filtration and purification of water through natural methods and techniques
Creating spaces and opportunities for people to connect and interact with the river, which wouldrestore their faith and value for the water resources, thus encouraging them to take active participation
Measures and proposals to be implemented in the watershed and catchment areas to ensure water quality and quantity reaching the rivers
It is difficult to revive or provide access along the entire stretches of the Nag, Pora and Pili rivers through the city, due to various practical difficulties. As a result, specific locations or nodes were identified where interventions could be made based on factors such as ecological status, ownership pattern, heritage value, religious values, landuse and activity pattern, aesthetic quality and scope for development as public activity nodes. These are in addition to the overall guidelines for the river stretches.
Nagpur, Maharashtra
Commissioned by – Nagpur Municipal Corporation
Nagpur city is divided into three watersheds cantered by three parallel flowing rivers; Nag, Pili and Pora. Out of which two are dammed on upstream side forming three major reservoirs to cater to the need of city . These river banks also serve as Biodiversity Corridors for the fauna and avifauna of the region. Historically the rivers, especially the Nag River, enjoyed cultural and social significance and value. However their importance in the current times has been diminished and they are lying in a neglected state.