Cheshire Home
Cheshire home is a home and centre for specially abled. Access to the Livelihoods program for Persons with Disabilities (PwD) is implemented by Cheshire's partner NGO organizations in the specific location. Cheshire Homes India at Mumbai are the implementing partner organization for the Livelihoods Resource Centre project.
Sherley singh (Hotelier and philanthropist) approached Grassroots, engaging and giving us an opportunity to donate for Cheshire home through effective design of a sensory garden!
The area filled with dump and crap was cleared to make way for a lovely sensory garden and part area for parking. The idea was to create best out of waste from the available crap within the premises. The six areas selected against each existing structure were dedicated to different themes such as The herbivore zone, Farming zone, Butterfly wall, Musical wall, Sensory -touch and feel area respectively.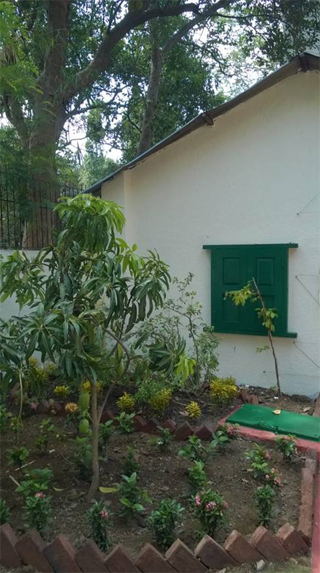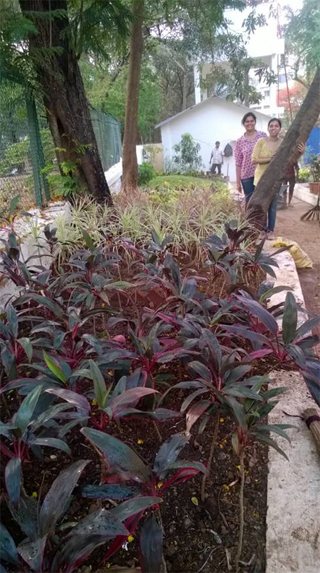 The core dedicated areas were cleared off from scrub growth making way for indigenous/native species. The butterfly garden adorning lemon trees, lantana camara, statchyterma variety started attracting a lot of butterfly species. The farming zone was divided into four units giving way to brinjal, ladies finger, chillies, curry leaves, spinach, bittergourd and bottle gourd etc. These would in turn help in generating remuneration everyday for Cheshire home. The store room wall was nailed with scrap double shuttered window with a mirror peek a boo view inside. The entire stretch from the entrance area adorns variegated hardy variety species. Two grass mounds placed strategically for green feel and relaxing.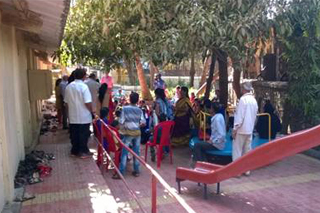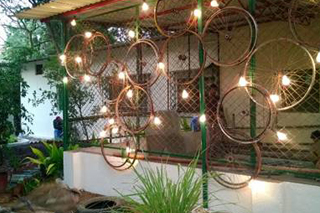 The musical wall was fixed with painted and polished wooden scrap doors nailed with cymbals, tambourine, pipe xylophone and maracas! Interesting part was the path paved with MS pipes making way for therapy walk along few chickoo, amla and spider lily trees.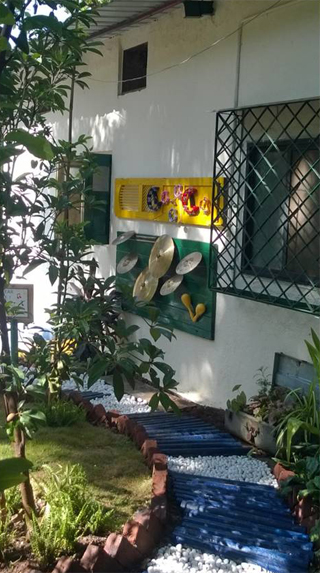 ---
Copyright © 2006-2013 GRASS ROOTS RESEARCH & CONSULTANCY | Terms of Use